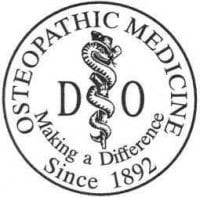 The first osteopathic medical college was established in Kirksville, Missouri in 1892.  Driven by the conviction that anatomy and physiology are intimately related and that the body is self-healing when allowed to properly function, Dr. Andrew Taylor Still opened the first osteopathic medical college as an alternative to conventional medical training.
Born in 1828 in Virginia, A.T. Still was the son of a Methodist minister and physician.  Following in his father's footsteps, Still also became a licensed physician, establishing a frontier practice in the 1850s and later serving as surgeon in the Union Army during the Civil War.
After the war, Still lost three children to an epidemic of spinal meningitis in 1864.  One month after the epidemic, he lost a fourth child to pneumonia.  His inability to save his family with the methods available at the time: bleeding, blistering, purging, and so forth, led him to reject much of what he had learned about medicine and search out new and better methods of treatment (to find our more about the history of Osteopathy, click here).
Still delved further into the study of anatomy and physiology.  He became convinced that the body was a "perfect machine," capable of self-healing once its structure was normalized and the free flow of blood and nerves restored, and that most diseases could be alleviated or cured without drugs.  In 1874 he went public with his ideas, slowly gaining acceptance and building-up his reputation in the community.  In 1885 Still began officially using the term "osteopathy" to refer to his form of manipulative medicine; in his words, "I reasoned that the bone, "osteon," was the starting point from which I was to ascertain the cause of pathological conditions" (from "How I Came To Originate Osteopathy," A.T. Still MD).
After graduating the first class of five women and sixteen men in 1894, the American School of Osteopathy became a huge success.  Additional wings and an infirmary were added on, more than tripling the size of the original structure by 1897.  The local railway was forced to increase the number of daily passenger trains, as it is estimated that more than 400 patients a day came to Kirksville to be treated.
"Osteopathy is to me a very sacred science. It is sacred because it is a healing power through all nature."
–A.T. Still MD, Osteopathy: Research and Practice