<!–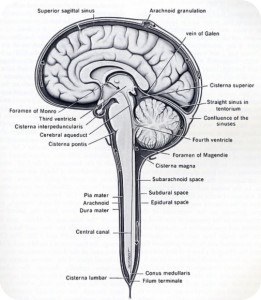 –>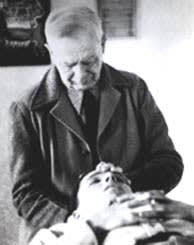 In the early 1900s, William Garner Sutherland D.O. applied osteopathic concepts to the anatomy and physiology of the skull and central nervous system.  He called this study "Osteopathy in the Cranial Field" and saw it as a continuation and extension of the science of osteopathy.
While studying a disarticulated skull during his education at the American School of Osteopathy in 1899, Dr. Sutherland had a thought which struck him, that the bones of the skull were designed for movement:
"bevelled like the gills of a fish, indicating articular mobility for a respiratory mechanism."
During the 30 years of extensive study and research which ensued, Dr. Sutherland discovered that the bones of the skull did indeed move, and that they moved in coordination with an inherent, alternating expansion and contraction of the central nervous system.  He named this phenomenon the Primary Respiratory Mechanism because it drives all functions of the body and is the foundation for metabolism (for more details, click here).
<!–

–>
Modern science acknowledges that the nervous system, now often referred to as the neuroendocrine-immune system, plays a major role in regulating metabolism, digestion, and immune function.  Extending from the head to the tailbone, the nervous system branches out throughout the body to guide and orchestrate its functions. Scientists now understand that this guiding wisdom functions as a whole, integrating the various organ systems of the body in one gesture.
<!–
–>
The Primary Respiratory Mechanism is a living system- breathing, fluctuating and responding to its environment. The cranial osteopath learns to access and engage this fluid perceptual field with its associated rates and rhythms. In addition to treating injuries of the head, brain, and spinal cord, cranial osteopathy helps the patient adapt to and recover from stress, achieve and maintain homeostasis, and build a functional reserve.
"Where is the cerebrospinal fluid? Is it only in my body? No. It is in each and every one of your bodies. There is an ocean of cerebrospinal fluid in this room."
-W.G. Sutherland DO, Teachings in the Science of Osteopathy